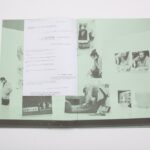 LANG ZAL ZE LEVEN / HAPPY BIRTHDAY TO YOU
€25,00
29.7 X 42 cm, 52 pages black & white (images) on mint green paper

21 x 29.7 cm, 28 pages black & white (texts) on white paper, 1 poster 70 x 42 cm

10 small color photographs manually glued

10 color leaflets manually mounted with a scotch tape the publication is wrapped with a white ribbon
Concept & design: Anouk Kruithof

Photographs: Anouk Kruithof & Sascha Landshoff (Anouk's assistant)

Introduction text: Armand Hoppener

Text: quotes from patients

Interviews & edit: Anouk Kruithof
Self-published

Dutch/English, 2011

Edition 500

ISBN 978-90-817081-1-1
This book has been nominated for the Dutch Doc Award 2012 and has been shown at FOAM Pop In Amsterdam, museum het Dolhuys Haarlem and at Tropenmuseum Amsterdam.
Happy birthday to you is an unconventional publication about a social project by Anouk Kruithof, which she undertook during her stay at the artistic residence Het Vijfde Seizoen at the Altrecht psychiatric unit in Den Dolder in 2011.
Kruithof interviewed 10 patients about their birthday wishes and then celebrated it with and for them according to these wishes. 'One of them wanted a big party with live performances and herring on toast with fresh orange juice for all guests, the next wanted to go to Utrecht to smoke a birthday joint.' Anouk asked each patient for their favourite colour and they all got a cake adorned with their portrait photograph. Anouk did this deliberately, because cutting and eating 'your own face' always puts people as ease. The publication consists of both quotes from the interviews as well as photos of hand-made 3D sets in which the documentary photographs of the birthdays are displayed as small exhibitions. The publication offers a chronological overview of how the 10 birthdays were celebrated and of the honest collaboration with people with a psychiatric condition.
Martin Parr in the Independent newspaper and on PhotoEye best books of 2011: My big obsession is photobooks, and because of this interest, a book arrives nearly every day. Happy birthday to you by Anouk Kruithof really stands out. This Dutch photographer arranged a project in a psychiatric hospital to make a birthday cake with patients that depicted a wish for their birthday. She shoots these and puts behind a small paper "door" and places cut out photos of the folk on the surrounding pages. This is probably the wackiest book of the year.
Also selected for the PhotoEye best book of 2011 by Alec Soth and Antone Dolezal. Here is a fantastic example of an unconventional approach to book making. Kruithof's cut-and-paste design on this over-sized newsprint format seems simple at first. But her intimate collaboration with psychiatric patients and thoughtful approach are anything but that.
Out of stock