Sale!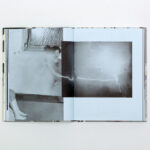 THE BUNGALOW
Hardcover

272 pages

Full color, black & white, duotone

170 x 228 mm / 7 x 9 inches

Concept & image: Anouk Kruithof

Book concept: Anouk Kruithof, Christof Nüssli

Graphic design: Christof Nüssli

Source of images: Collection Brad Feuerhelm

Texts: Anouk Kruithof, Brad Feuerhelm, Freek Lomme

Advice: Freek Lomme

Translation: Taco Hidde Bakker

Publisher: Onomatopee  (106 / Cabinet Project)

Edition of 1200

ISBN: 978-94-91677-23-6
Immersed in collector Brad Feuerhelm's vernacular photo collection, artist Anouk Kruithof moved into a bungalow where she developed a niche relationship with the photos and transformed the image archive. She visualizes scenarios in which images, through the imaginary space of our conception, and parallel to digitization, leap across the tooth of time. The personal image relations, all but magically approached and released, offer new perspectives, to relate us, one-to-one with the image, to the present post-digital image economy in which our image memory moves. Furthermore, the technical angles give insight into the way we can process our image memory.
The five differently-processed image stories make this book a layered 'Gesamt-sculpture' that has a lot to say about the actual status of our image memory. The Bungalow is an 'image wonderland' in which a closed meeting represents the 'bite' of the leap.
33 in stock